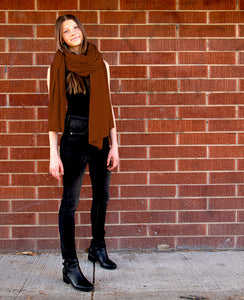 Our Essential Wrap is perfect to wear as a cozy scarf in the winter, to wrap around yourself on an airplane or a long car ride, or to keep in your bag for when your office freezes you with the air conditioning! It will be your super luxe security blanket and your go-to fashion accessory! Once you have one, you will wonder how you ever lived without it!
Merino Wool is incredibly soft and has a microscopic crimp in the fiber. This means your garment will insulate when it's cold out so you stay warm and breathe when it's hot to keep you cool. 
The yarn we use is Standard 100 by OEKO-TEX, TF certified for traceability, certified by the Associazione Tessile e Salute, Interwool Labs, and Alperia.
They use highly sophisticated tools and machinery that optimize energy and water consumption. Since 2018, the shift towards 100% use of green energy is being carried out alongside a constant technological modernization of lighting in the production departments. They promote a circular economy model trying to reuse as much as possible the resources and by-products of the raw materials in the processes of producing their yarns. In 2018, about 70% of waste material was destined for reuse and recycle.
In other words, you can feel good about your investment in this piece because it has been sourced and made responsibly.
Note: This would be perfect for corporate/holiday gifting for your staff or for special clients. Corporate clients choose from a color card of 300+ colors, with custom labels including sincere messages of your choice. Contact us for more info on corporate orders and pricing structure.
-Knitted in the western USA.
-Unisex.
-Length: 80", Width: 36"
-12 gauge knit.
Machine wash. This piece carries the "Easy Care" label. Use large lingerie bag or wash by itself. Wash using mild detergent (we recommend The Laundress Wool and Cashmere wash or Eucalan.)